Amore Chocolate Pizza Company
was a private company in Kansas. It was founded in 2006 and family owned. The company was known for their chocolate "pizzas." It went out of business in 2012.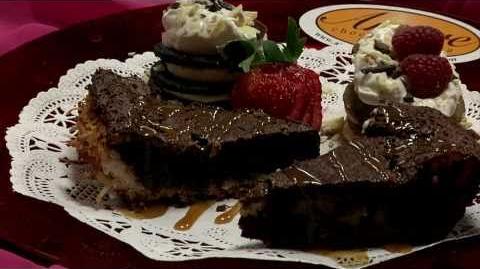 Spicy hot chocolate
Regular hot chocolate
Coffee
Chocolate pretzels (dipped in chocolate and topped with candy or sunflower seeds)
Chocolate-Frosted Sugar Bombs
Chocolate "Dirty" Spoons (Raspberry, mint, butterscotch, or peppermint)
Brownies
Pie
Cake
Other desert items
Lunch items
Chocolate pizzas
Edit
Toffeelicious: hard milk chocolate with toffee
Coffeelicious: coffee flavored chocolate with a cookie bottom
Dark Chocolate Coconut
Milk Chocolate
Peanut Butter Dreams
Smore Amore: chocolate with graham crackers and marshmallows
Break-a-leg: marshmallows, peanuts, coconut crispies, white chocolate, and maraschino cherries
Peppermint
Ad blocker interference detected!
Wikia is a free-to-use site that makes money from advertising. We have a modified experience for viewers using ad blockers

Wikia is not accessible if you've made further modifications. Remove the custom ad blocker rule(s) and the page will load as expected.