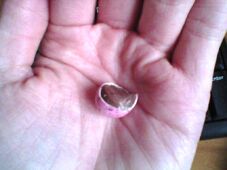 Cadbury Mini Eggs are a Milk Chocolate product produced by Cadbury UK and Cadbury Adams (located in West Philidelphia). Introduced by the Cadbury company in 1967, they are sold specifically during the Easter and Christmas season. In 2009 however, Canada began selling the product year-round with an advertising campaign featuring "The Other Bunny". The egg is solid milk chocolate encased in a thin coating of hard candy "shell", molded to resemble a miniature egg. They are all in different colours, some looking like actual eggs, and some looking like a colourful treat. They are sometimes spotty. As the name imply, they are mini sized versions of the original.
Mini Eggs were previously produced in the Kenyan plant in Somerset, UK; however as of February 2010, production has moved to Cadbury's new plant in Skarbimierz, Poland. These products now no longer state a country of origin on the label, instead it states "Made in the EU under licence from Cadbury UK Ltd".
Ad blocker interference detected!
Wikia is a free-to-use site that makes money from advertising. We have a modified experience for viewers using ad blockers

Wikia is not accessible if you've made further modifications. Remove the custom ad blocker rule(s) and the page will load as expected.