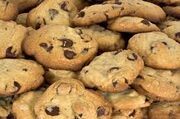 The Chocolate Chip Cookie is a very popular dessert. It consists of a cookie with chocolate chips inserted inside it. It is a widely popular cookie eaten all across the country today, and has been gobbled up as a dessert since the 1930's. They come in many different shapes and sizes.
The chocolate chip cookie was first made in 1930 by a woman named Ruth Wakefield. Ruth was making her favorite cookies, Butter Drop Do cookies, when she ran out of baker's chocolate. So she cut up a Nestle's chocolate bar and used that in the cookies instead. Ruth thought the chocolate would melt into the cookie. But it didn't. Instead, it only softened. So the world's first chocolate chip cookie was made by mistake.
At that time, Mrs. Wakefield owned an inn in Massachusetts called The Toll House Inn. There she gave guests her new "invention" in baking. Almost a decade later, the Nestle Company got word of Mrs. Wakefield's "invention" and started marketing their chocolate in morsels under the name "Nestle Toll House Chocolate Chips". Nestle bought the rights to the Toll House name and also Ruth Wakefield's recipe, calling it "The Famous Toll House Cookie." The recipe was even printed on the back of the bag.
| Ingredients | Amount Needed |
| --- | --- |
| Unsalted butter | 1 cup |
| Granulated white sugar | 1 cup |
| Packed light brown sugar | 1cup |
| Eggs | 2 |
| Vanilla Extract | 2 teaspoons |
| All-purpose flour | 2 1/2 cups |
| Baking Soda | 3/4 teaspoons |
| Salt | 1/4 teaspoons |
| Chocolate Chips | 1-1 1/2 cups |
Directions
Edit
Preheat over to 350 degrees F
Line baking sheet with parchment paper
Cream butter in a bowl with an electric mixer
While mixing add in white and brown sugars and beat until fluffy
Once fluffy, beat in eggs, one at a time
Add in vanilla
In another bowl combine flour, baking soda, and salt
Mix the contents from the two bowls together and add the chocolate chips in half way through mixing
Freeze the dough until firm
Once firm, scoop out dough onto the prepared baking sheet
Bake cookies for 12-14 minutes or until brown around the edges
Let cookies cool on wire rack
Enjoy!
Clean Up.
In 1987 Chester Soling sponsored a contest to find the best recipe for chocolate chip cookies and got over 2,600 responses for various recipes

Ruth Wakefield was originally a dietitian before becoming an owner of an Inn and creator of the chocolate chip cookie
On New Years Eve, 1984, the Toll House Inn, the original birthplace of the chocolate chip cookie, burned down
Chocolate chip cookies are the biggest selling cookie in the US today
Chocolate chip cookies were originally called Chocolate Crunch Cookies
The Massachusetts official state cookie is the chocolate chip cookie, and in 2001 the Commonwealth of Pennsylvania declared it their official cookie as well
Ad blocker interference detected!
Wikia is a free-to-use site that makes money from advertising. We have a modified experience for viewers using ad blockers

Wikia is not accessible if you've made further modifications. Remove the custom ad blocker rule(s) and the page will load as expected.