Chocolate Mousse a dessert prepared with air bubbles to give it a light and airy texture. It's texture, depending on how it's made, can range from light and fluffy to creamy and thick.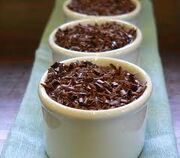 A dessert mousse is a form of dessert typically made from egg and cream, usually in combination with other flavors such as chocolate or puréed fruit. It was once strictly a specialty of French restaurants, but chocolate mousse was adopted into American and English home cuisine in the 1960s. It is now served in many English and American restaurants as a dessert.
Ad blocker interference detected!
Wikia is a free-to-use site that makes money from advertising. We have a modified experience for viewers using ad blockers

Wikia is not accessible if you've made further modifications. Remove the custom ad blocker rule(s) and the page will load as expected.