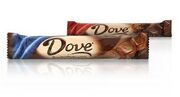 Dove (sold as Galaxy in the United Kingdom, Ireland and the Middle East) is a brand of chocolate made and marketed by the Mars company.
History
The name comes from Dove Candies & Ice Cream, which were Chicago sweet shops owned by Leo Stefanos. In 1956, Stefanos created the Dove brand of ice cream bars, which started in Chicago, and slowly moved around the United States.
Products
The Galaxy and Dove have many different brands in Milk Chocolate, Caramel and Nut chocolate bars. The Galaxy and Dove brands also sell beverages, such as, Chocolate Milk, Hot Chocolate powder, Chocolate Ice Cream and more.                                                                                                                         
Ad blocker interference detected!
Wikia is a free-to-use site that makes money from advertising. We have a modified experience for viewers using ad blockers

Wikia is not accessible if you've made further modifications. Remove the custom ad blocker rule(s) and the page will load as expected.