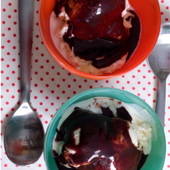 Hot Fudge
is a type of chocolate that is melted, and is commonly used as a topping on
ice cream or brownies.
 It has a thicker texture, and as it's name suggests, is derived from fudge, and is very warm to very hot. It can be light and smooth, or tough, stretchy, and strong.
Fudge was invented in the United States in the late 1800s and may have been called "Divinity" in its most early forms because it tasted divine. It is only in the United States and Canada.
Ad blocker interference detected!
Wikia is a free-to-use site that makes money from advertising. We have a modified experience for viewers using ad blockers

Wikia is not accessible if you've made further modifications. Remove the custom ad blocker rule(s) and the page will load as expected.