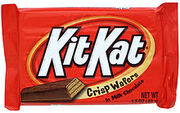 A Kit Kat is a type of candy produced by Nestlé. It is a chocolate-covered wafer. The Kit Kat advertising song lyrics are, "Gimme a break. Gimme a break. Break me off a piece of that KIT-KAT-BAR!"
In Canada, the packaging and recipe is different. The packaging looks more like the original packaging seen below.
Every second more than 418 Kit Kats are consumed al over the world.
Ad blocker interference detected!
Wikia is a free-to-use site that makes money from advertising. We have a modified experience for viewers using ad blockers

Wikia is not accessible if you've made further modifications. Remove the custom ad blocker rule(s) and the page will load as expected.