Jump to:
navigation
,
search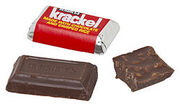 [1]Miniature-sized Krackel bar Krackel is a Chocolate Candy Bar made by Hershey Company.
Krackel contains crisped rice, and is similar to the competing Crunch bar made by Nestlé. Krackel originally sold as an individual candy bar product, and is now only available as one of the four varieties of Hershey's Miniatures.[1][2]wwwwwwwwwwwwwwwwwwwwwwwwwwwwwwwwwwwwwwwwwwwwwwwwwwwwwwwwwwwwginally also had Almond in its formula. Peanuts were then added in 1939, but both the almonds and peanuts were removed in 1941.[3] The product's packaging can be identified by its distinctive red background with white lettering.[4]
Ingredient changes to reduce production costs
Edit
The Hershey Company started to change the ingredients of some of its products, in order to replace the relatively expensive cocoa butter with cheaper oil substitutes. This was done to cut costs, rather than having to raise prices in the marketplace for products containing cocoa butter.[5] Hershey's changed the description of the product and altered the packaging slightly along with the ingredients. Though the new formula contains chocolate, according to United States Food and Drug Administration food labeling laws, these modified recipes which do not contain cocoa butter cannot be legally described as Milk Chocolate.[6]