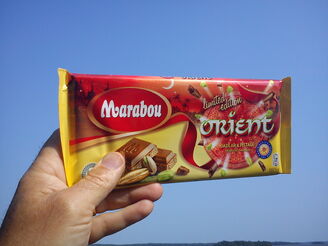 Marabou is a brand founded by Norvegian Johan Throne Holst 1916 in Sweden. Previously, he had already successfully sold the same chocolate recipe under the name Freia. Later on, both brand names merged into one product. In 1993, the company was taken over by Kraft Foods.
Among the company's marketing campaigns, the slogan "Mmmmh ... Marabou" is the most well-known. The most popular products are its many different flavours of milk chocolate. Until September 2011, Marabou chocolates could be bought in IKEA stores around the UK, US, Canada, Spain, Poland, and Australia. 
Ad blocker interference detected!
Wikia is a free-to-use site that makes money from advertising. We have a modified experience for viewers using ad blockers

Wikia is not accessible if you've made further modifications. Remove the custom ad blocker rule(s) and the page will load as expected.