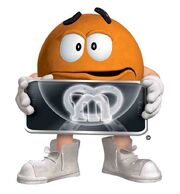 The orange M&M was originally a crispy M&M and he always used to be scared of being eaten because he thought he was the tastiest flavor. Eventually crispy M&Ms were wiped out from the USA and he no longer advertised crispy M&Ms. A little later however he met Pretzel Guy who made things worse for him. Pretzel guy followed him everywhere until he was actually surgically put inside Orange himself. Orange soon became the character to advertise pretzel M&Ms and now and again he would appear in other ads such as the color break up ads. and a few other one-offs. Like Blue he is rarely used in adverts and over the years has lost his fear of being eaten.
Orange doesn't really trust anyone (especially when
Red
and
Yellow
licked him in one of his ads!) he's always very scared and worried about what will happen to him.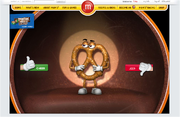 Pretzel guy usually tries to tease Orange with his personality but in the end he puts up with him. He has also been shown to be quite clumsy at times.