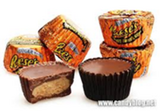 Reese's Peanut Butter Cups are a brand of candy filled with peanut- butter, and covered with Chocolate, marketed by The Hershey Company. They were created in 1928.
There are bigger versions of Reese's Peanut Butter Cups, too, the Reese's company also has special peanut-butter pumpkins for Halloween that look like Jack-O-Lanterns. 
Ad blocker interference detected!
Wikia is a free-to-use site that makes money from advertising. We have a modified experience for viewers using ad blockers

Wikia is not accessible if you've made further modifications. Remove the custom ad blocker rule(s) and the page will load as expected.