Nutella
Nutella is a Hazelnut spread, which can be eaten many ways. One way is making toast and putting Nutella on it. Another way is cutting up an apple and putting Nuttela on it, like you would put peanut butter on apple slices.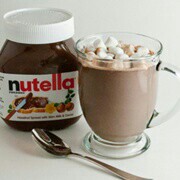 Posts/ comments.
Other.
Ad blocker interference detected!
Wikia is a free-to-use site that makes money from advertising. We have a modified experience for viewers using ad blockers

Wikia is not accessible if you've made further modifications. Remove the custom ad blocker rule(s) and the page will load as expected.