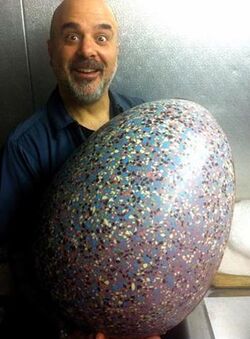 Chocolate pretty much dominates most major holidays. Christmas? Check. Thanksgiving? Check...along with pumpkin. Halloween? Check and check. Now with Easter fast approaching, people are indulging in delicious chocolate-y goodness.
Some serious chocolatiers and fans have taken their love of chocolate to a whole new level for Easter, as seen in the picture of Michael Recchiuti, of the famous Michael Recchiuti Confections in San Francisco.
Already famous for his luxurious and decadent chocolates, Michael has created this gigantic Easter Egg weighing 30 lbs!! It's two feet tall and took 15 hours to make, with help from two other people including himself. Although edible, it's meant to be more of a decorative piece made from cocoa butter.
How does he get all the beautiful colors to show? "It's basically like a chocolate version of terrazzo. We make all these little colored, white chocolate pebbles. Then we bind it with 100 percent cocoa butter, line the inside of the egg with it and set it up. Once it's set, we sand it down with a warm knife to let the colors show through."
This egg will cost you $500! If you'd like "smaller" pieces the size of ostrich eggs, they will go for $50. And Michael's also raffling off one of those eggs at the Ferry Building Marketplace in San Francisco. If you happen to be in the Bay Area, it's definitely worth a look!
Source
http://news.yahoo.com/s/yblog_localsfo/20110420/ts_yblog_localsfo/the-500-egg-michael-recchiuti-prepares-for-easter
Kate.moon 23:35, April 21, 2011 (UTC)
Ad blocker interference detected!
Wikia is a free-to-use site that makes money from advertising. We have a modified experience for viewers using ad blockers

Wikia is not accessible if you've made further modifications. Remove the custom ad blocker rule(s) and the page will load as expected.