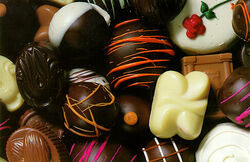 Happy Chocolate Week, Chocoholics! It's the perfect week to indulge in your favorite sweet, decadent dessert! What is your favorite way to eat chocolate? Plain, in ice cream, or perhaps baked into your favorite cake?
Rest assured that chocolate, especially dark chocolate, has antioxidant properties and is known to reduce your chances of heart attacks and lower your blood pressure. So go ahead and settle back with your favorite chocolate indulgence to celebrate Chocolate Week!
Poll
What is your favorite kind of chocolate?
Ad blocker interference detected!
Wikia is a free-to-use site that makes money from advertising. We have a modified experience for viewers using ad blockers

Wikia is not accessible if you've made further modifications. Remove the custom ad blocker rule(s) and the page will load as expected.